THE HEART OF RAJASTHAN
Ajmer Sightseeing Tour
---
Udaipur Taxi offers taxi service in ajmer for sightseeing of ajmer and pushkar.Ajmer is surrounded by the Aravalli Mountains. It is the base for visiting Pushkar (11 km), an ancient Hindu pilgrimage city, famous for the temple of Lord Brahma. Ajmer had been a municipality since 1869. The city of Ajmer gets its name from "Ajay Meru", which can be roughly translated as "invincible hill".
Ajmer remains a popular tourist attraction, in addition to being a pilgrimage center for both Hindus and Muslims. The last resting place of the Sufi Saint, Khwaja Moinuddin Hasan Chisti, is called by Muslims from all over the macrocosm; in fact, the Dargah is revered equally by both Hindus and Muslims. The urban center is besieged by the expansive lake of Ana Sagar and the rugged hills of Aravalli.So book us for ajmer sightseeing taxi tour services at lowest fare in ajmer.
The Ajmer Sharif Dargah
This is a Sufi shrine, which encloses the 'maqbara' (grave) of Garib Nawaz, the Sufi saint Khwaja Moinuddin Chisti. Constructed in the 13th century, the shrine is popular among people of all faiths who flock here to receive their prayers did. Another great attraction at this holy shrine is the sacred and scrumptious food that is dished out to devotees.
Lake Foy Sagar
A beautiful artificial lake that looks flat, Lake Foy Sagar was built by an English engineer, Mr. Foy in 1892 AD. Interestingly, this work was occupied up to provide famine relief through wage employment to the locals. Lake Foy Sagar offers a beautiful panorama of the Aravalli range.
Adhai Din Ka Jhonpda
The Adhai Din Ka Jhonpda was originally built to function as a Sanskrit college but was later converted into a mosque by Sultan Ghori in 1198 AD. An impressive blend of Indo-Islamic architecture, the structure was further beautified by Sultan Iltutmish in 1213 AD. Legend has it that the mosque is known as Adhai din ka Jhonpda because of a two and half day fair held here during Urs in the 18th century.
Ajmer Government Museum
The Ajmer Government Museum serves as one of the premier tourist destinations in Ajmer. The museum is housed inside the magnificent fortified palace of the legendary Mughal Emperor Akbar, which was established in 1570. The museum is too known as Bharatpur Museum and is home to a rich assemblage of archeological artifacts. Along with stone carvings.
Anasagar Lake
Anasagar Lake is a scenic artificial lake, commissioned and built by Arnoraj Chauhan, son of Ajaypal Chauhan, between 1135 and 1150 AD. Arnoraj was also known as Anaji, which makes the lake its name. Many long time later, Mughal Emperor Jahangir added his touch to the lake by putting out the Daulat Bagh Gardens near the lake.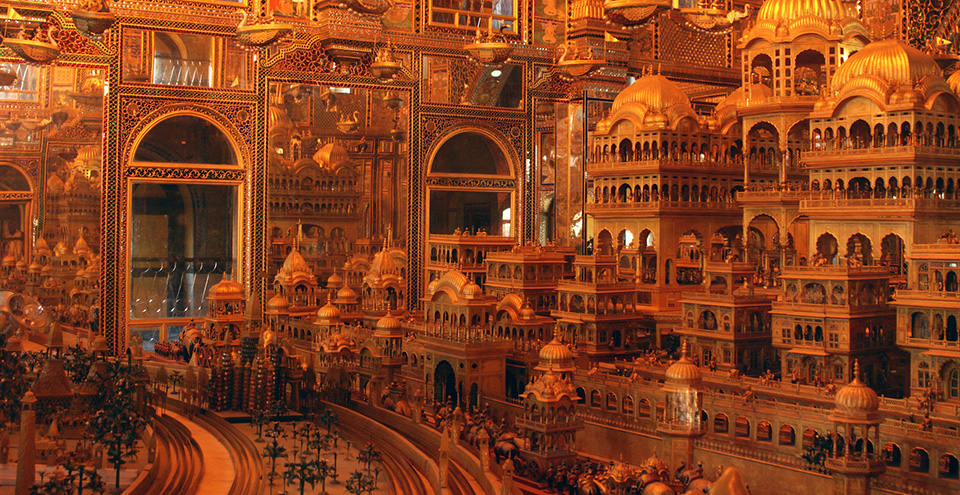 Soniji Ki Nasiyan
Soniji ki Nasiyan, also recognized as the Ajmer Jain Temple, is a fantastic example of ornate architecture, and is dedicated to Risabh or Adinath. Its entry is cleared of ruby stone and the marble staircase inside is engraved with images of the holy Tirthankars – omniscient teachers of Jain faith who taught righteousness.
Mayo College
Mayo College is one of India's oldest independent boarding schools. Founded in 1875, and named after Richard Bourke, the 6th Earl of Mayo, Mayo College was set up to provide the scions of India's princely states with an instruction similar to that offered by the Eton College in Britain.
Nareli Jain Temple
The Nareli Jain Temple in Ajmer, also recognized as the Shri Gyandoaya Tirth Kshetra, is located along the outskirts of Ajmer on the national highway to Jaipur. This modern edifice is celebrated for being a consummate blend of traditional and contemporary architectural trends.
Sai Baba Temple
Spread over an expanse of over five bheegas (or over two acres) at Ajay Nagar, the Sai Baba Temple in Ajmer was constructed by Suresh K Lal, a resident of the Garib Nawaz City in 1999. It's one of the most recent pieces of architecture and is very popular among all Sai Baba devotees.
Gateway Of Taragarh Fort
Gateway of Taragarh Fort is the imposing main gate of the Taragarh fort, which is constructed along a top of a mound. The principal gateway of the Taragarh, which consists of two colossal bastions on both sides with strong guard rooms, has sculptures of elephants adorning it.
Kishangarh Fort
Kishangarh Fort is a beautiful fort located in Kishangarh, Rajasthan. On visiting the fortress, one will see jails, granaries, armories and other significant buildings present inside of it. The Durbar Hall is its biggest structure, and was the piazza where the kings carried out their official meetings on a everyday base.
Pragya Shikhar Todgarh
Constructed by the Jain community in 2005 in the memory of Jain Acharya Tulsi, Pragya Shikhar is a temple made entirely out of black granite. It is located in Todgarh, which is a scenic small town set in the Aravalis.Dr. APJ Abdul Kalam inaugurated it, and it was set up by an NGO.
Victoria Clock Tower
Ajmer is a metropolis that has seen major influence from the British in its past. The British passed on their legacy in many forms in Ajmer, some of which are in the form of educational foundations and architectural constructions in the urban center.While a couple of these buildings are situated in the heart of Ajmer, one that instantly grabs the eye of the visitor is the Victoria Jubilee Clock Tower.
Prithvi Raj Smarak
Prithvi Raj Snark is a memorial constructed in the honor of the brave Rajput chief, Prithvi Raj Chauhan III. Regarded as the epitome of devotion and courage, he was the final rule of the Chauhan lineage and was enthroned to rule over the twin capitals of the Ajmer and Delhi, in 12 th century.The memorial exhibits the statue of Prithvi Raj III seated on his horse, made in black rock.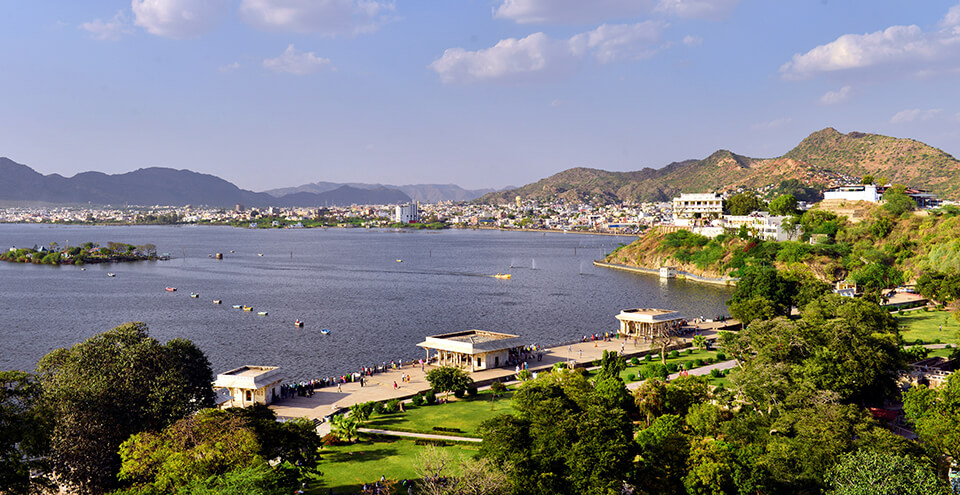 Anasagar Baradari
The white marble pavilions present on the south eastern embankment of the beautiful Ana Sagar Lake in Ajmer are called as Anasagar Baradari. It is a Mughal structure that's wrapped around water bodies in a garden-like mount.These pavilions boast of a rich history; these were a department of a pleasure garden named Daulat Bagh that was put up by Shah Jahan and Jehangir.
Shahid Smarak, Ajmer
Paying reverence to the mighty and brave has been a practice that's ingrained into the very soul of Rajasthan, and the same can be observed in the city of Ajmer too. Walking about the metropolis, you are probable to add up around structures and monuments, which offer homage to great warriors and martyrs, born in the luxurious state. One such social system established in commemoration of the sacrifices of brave souls.
We are Ready to Take Your Call 24 Hours, 7 Days!
+91-8385859995