CITY OF LAKES AND PALACES
Udaipur
---
The city, known for its boat cruises, antique markets, weekend bazaars, palace hotels and horse carriage journeys under the moonlight will steal your heart away Udaipur Lake Palace Hotel is a palace hotel located on the shores of Lake Pichola, in Udaipur city.Udaipur city in Rajasthan, India is a wonderful place to visit. Explore the many beautiful attractions in this city such as the City Palace Museum and jagdish temple.
The City Palace and Sajjangarh palace are the main attraction of Udaipur and a must visit for every tourist coming to this city.Solar observatory is situated on an island in Fateh Sagar Lake.Today, this stunning city is a major tourist destination known for its stunning havelis and lakes
Udaipur City Palace
The City Palace is situated over Lake Pichola in the city of Udaipur. It was built in the early 17th century by Maharana Udai Singh II (1532-72) of the Sisodia clan. The palace complex includes the Jagmandir Island, which is accessed via a stone causeway that crosses the lake.
Lake Palace
The lake palace of Udaipur is a beautiful palace situated on the banks of Lake PicholaThe lake palace is an amazing place to visit in Udaipur. It is a blend of Rajput and Mughal style architecture, overlooking the scenic beauty of Lake Pichola from its premises.
Monsoon Palace
Located just outside Udaipur, this 19th-century palace is constructed on top of Bansdara hills. Employed as a monsoon palace and hunting lodge, its builder, Maharana Sajjan Singh, originally designed to cook it an astronomical center. The design was cancelled with Maharana Sajjan Singh's premature death. It is still an amazing sight on the Udaipur skyline and provides dramatic vistas of the metropolis and the areas around.
Saheliyon Ki Bari
A popular tourist destination, Sahelion-ki-Bari is known as the Garden of Maidens. Saheliyon-ki-Bari or the Garden of Maidens is an exquisite example of Mughal garden design. The many pavilions and structures in the garden symbolize the Mughal love for gardens without boundaries, which also influenced its architectural style.The former royal palace and many other structures in the garden are worth-visiting places.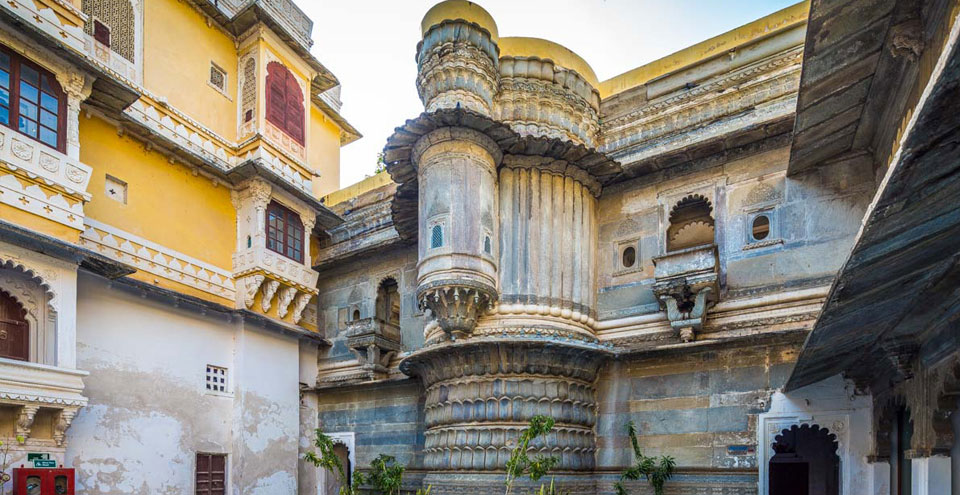 Bagore Ki Haveli
The Bagore-ki Haveli is situated on the Gangaur Ghat of Lake Pichola. It was built in late 18th century by Amar Chan Badwa, the Prime Minister of Udaipur State. The palace, a magnificent structure has over hundred rooms with beautiful windows and mirrors.
Gulab Bagh And Zoo
Gulab Bagh is a great place to enjoy a relaxing day with your family and friends. There are many places of interest here such as ponds, a library, a zoo, temples and several government offices located on the grounds. It is one of the oldest zoological parks in the rajasthan.
Bharatiya Lok Kala Mandal
Located in Udaipur, Bharatiya Lok Kala Mandal is known for its work on folk culture and arts of Rajasthan, Gujarat and Madhya Pradesh. They have been recognized by the State Government as a center for preservation of indigenous culture.Bharatiya Lok Kala Mandal founded by Smt. Pushpadevi Vyas, is an institute promoting folk arts of India.
Shilpgram
The Shilpgram is a rural arts and crafts centre at the foothills of the Aravalli ranges, approximately 7 kilometers north-east of Udaipur in the state of Rajasthan. It consists of craft houses, showrooms and camping cottages based on the concept of eco-tourism and is situated amidst a 80 hectare jungle .
Udaipur Fish Aquarium
Fateh Sagar Pal is the place in Udaipur from where you can enjoy a macro view of unique and attractive sea-life. With the world's largest virtual aquarium display that spans over an area of 21,000 sq. ft., you can relax and watch the fish swim around you. This aquarium has maintained the charm of natural water bodies while providing a technology-based virtual experience.The Under the Sun Fish Aquarium boasts some of the finest specimens of marine fish, from Corals, Anemones to Clown Fish and Seahorses.
Wax Museum
The Hollywood Wax Museum was established in the year 2010 and has carved a niche amongst the visitors. The museum is exceptionally unique, it is an interactive museum. You can expect to see a whole array of celebrity figures at the Hollywood Wax Museum. The place is expected to be buzzing with fun and excitement as it takes you along a journey through the wax effigy. You will be simply amazed at what you see here.A giant wax museum, comprising personality statues of popular film stars and musicians from the Hindi film industry, internationally known television artists and sports personalities.
We are Ready to Take Your Call 24 Hours, 7 Days!
Contact Us For Udaipur Day Tour +91-8385859995