THE HEART OF INDIA
Delhi
---
A symbol of the country's rich past and thriving present, Delhi is a city where ancient and modern blend seamlessly together. It is a place that not only touches your pulse but even fastens it to a frenetic speed. Home to millions of dreams, the city takes on unprecedented responsibilities of realizing dreams bringing people closer and inspiring their thoughts.
Just a century ago, the British moved the seat of their empire from Kolkata to Delhi. And it has been the Capital of India ever since. Now a thriving, cosmopolitan metro, the city has much to celebrate as it has already reached the milestone of completing 100 years as a Capital. With a history that goes back many centuries, Delhi showcases an ancient culture and a rapidly modernising country. Dotted with monuments there is much to discover here. The seat of many powerful empires in the past, its long history can be traced in its many carefully-preserved monuments, ancient forts and tombs.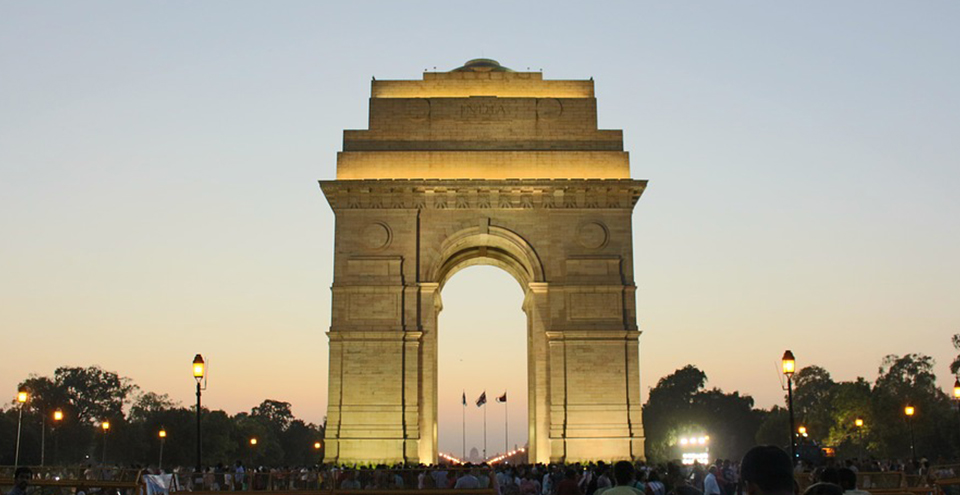 India Gate
The India Gate, (originally called the All India War Memorial), is a war memorial located astride the Rajpath, on the eastern edge of the 'ceremonial axis' of New Delhi, India, formerly called Kingsway. India Gate is a memorial to 82,000 soldiers of the Indian Army who died in the period 1914–21 in the First World War, in France, Flanders, Mesopotamia, Persia, East Africa, Gallipoli and elsewhere in the Near and the Far East, and the Third Anglo-Afghan War. 13,300 servicemen's names, including some soldiers and officers from the United Kingdom, are inscribed on the gate.
Indira Gandhi Memorial Museum
The Indira Gandhi Memorial Museum was set up in the same bungalow that once served as the residence of Indira Gandhi, the former Prime Minister of India. The Indira Gandhi Memorial Museum was the residence of the former Prime Minister, Indira Gandhi. It was in this house that she was assassinated by her own Sikh bodyguards on 31st October 1984. The house was converted into a museum after her assassination.The museum conserves some of the belongings of Indira Gandhi, including the sari she was wearing when she was assassinated.
Laxminarayan Temple
The Laxminarayan Temple, also known as the Birla Mandir is a Hindu temple up to large extent dedicated to Laxminarayan in Delhi, India. Laxminarayan usually refers to Vishnu, Preserver in the Trimurti, also known as Narayan, when he is with his consort Lakshmi. The temple, inaugurated by Mahatma Gandhi, was built by Jugal Kishore Birla from 1933 and 1939. The side temples are dedicated to Shiva, Krishna and Buddha.
Lotus Temple
The Lotus Temple, located in Delhi, India, is a Bahá'í House of Worship completed in 1986. Notable for its flowerlike shape, it has become a prominent attraction in the city. Like all Bahá'í Houses of Worship, the Lotus Temple is open to all, regardless of religion or any other qualification. The building is composed of 27 free-standing marble-clad "petals" arranged in clusters of three to form nine sides, with nine doors opening.
Nehru Memorial Museum & Library
Nehru Memorial Museum and Library preserves the history of Indian Independence struggle. Located in Teen Murti Bhawan at Connaught Place, it was earlier the official residence of India's first Prime Minister, Jawahar Lal Nehru. Numerous pictures and s relating to Nehru's life and work are displayed here. Today, it is an important centre for advanced research and modern history. You get the privilege to see the private study of Nehru here.
Qutub Minar
Qutub Minar is a minaret that forms part of the Qutb complex, a UNESCO World Heritage Site in the Mehrauli area of Delhi, India. Made of red sandstone and marble, Qutub Minar is a 73-metre (240 feet) tall tapering tower of five storeys, with a 14.3 metre (47 feet) base diameter, reducing to 2.7 metres (9 feet) at the peak.It contains a spiral staircase of 379 steps. Its design is thought to have been based on the Minaret of Jam, in western Afghanistan.
Swaminarayan Akshardham Temple
'Akshardham' means the divine abode of God. It is hailed as an eternal place of devotion, purity and peace. Swaminarayan Akshardham at New Delhi is a Mandir – an abode of God, a Hindu house of worship, and a spiritual and cultural campus dedicated to devotion, learning and harmony. Timeless Hindu spiritual messages, vibrant devotional traditions and ancient architecture all are echoed in its art and architecture.The mandir is a humble tribute to Bhagwan Swaminarayan (1781- 1830), the avatars.
Raj Ghat
Raj Ghat is a memorial dedicated to Mahatma Gandhi. Originally it was the name of a historic ghat of Old Delhi (Shahjahanabad) on the banks of Yamuna river. Close to it, and east of Daryaganj was Raj Ghat Gate of the walled city, opening at Raj Ghat on Yamuna River. Later the memorial area was also called Raj ghat.It is a black marble platform that marks the spot of Mahatma Gandhi's cremation, Antyesti (Antim Sanskar) on 31 January 1948, a day after his assassination.
We are Ready to Take Your Call 24 Hours, 7 Days!
+91-8385859995