The lush 'City of Lakes' was founded by Maharana Udai Singh in
[1559 and was named after him. Sprawls picturesquely on the slope of a low ridge along the banks of Pichola and Fatehsagar lakes.
It is surrounded by an amphitheater of low hills and studded with placid blue lakes, white marble palaces, graceful gardens, and sacred shrines.
Dotted with numerous water bodies, the city presents a Venetian look and stands out in stark contrast with its desert neighborhood.
Undoubtedly Udaipur '3 one of the most romantic and enchanting cities of the country.
Udaipur also referred to as the 'Abode of Udai' or the 'City of Sunrise' became the new capital of Ranas of Mewar, atter the death of Mabanm Pratap in 1597.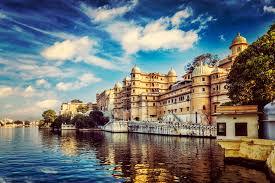 According to a legend, a hermit meditating here advised Maharana Udai Singh to build a stronghold on the very spot as this would be well protected.
The place indeed had many natural advantages of being located in a fertile valley with streams, lakes, an amicable altitude and surrounded by mountains.
The city was well protected by a peripheral city wall, with eleven gates. Today, few relics of the original wall can be seen and out of eleven only five gateways have survived the ravages of time.
The eastern gateway called the 'Suraj Pol' or the 'Gateway of the Sun' is the most important of the five.
Udaipur's legendary beauty is immortalized by its chivalrous past.
It is proud of its rich heritage and still preserves the traditions and culture of the glorious past, which is aptly reflected in its colorful festivals, performing arts, paintings, arts, and crafts, etc.
The amazing city is indeed a perfect blend of natural beauty and history, offering a great vacation to tourists with varied interests.
It is one of the few all-season destinations of Rajasthan but, Udaipur is at its best from September to March and just alter the end of monsoons.
Autorickshaws are very common but they rarely operate by meters. A ride by horse-driven tongas is also possible which can be a nostalgic journey into the past.
The cheapest mode of local transport is by means of city buses which have a good network throughout the city Ind adjoining places.